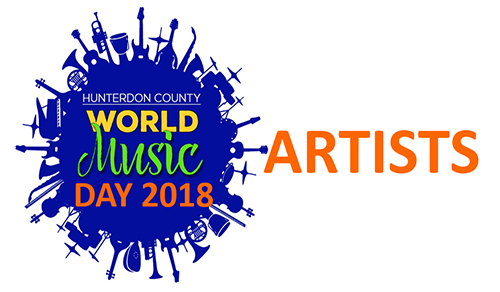 RED BARAAT

The place: a club in the middle of Brooklyn renowned for its sophisticated clientele, its receptivity to innovation, and its ideas from abroad. On a small stage in a tight, dimly lit back room, eight musicians are whipping a New York City crowd into a frenzy with an unprecedented, high energy, gut-busting fusion of jazz, hip-hop beats, rock muscle, funky go-go, and scalding hot bhangra. A horn section blares, percussionists pound, everybody shouts, and the group's charismatic leader, Sunny Jain, holds the explosive songs together with rhythms from his dhol – the Indian double-headed drum played slung over the shoulder that provides bhangra with its frenetic heartbeat. And just as it was the month before, the line of patrons who came to this club in Park Slope stretched out the door and down the block because they couldn't get enough of Red Baraat – a riveting octet that NPR has dubbed "The best party band in years."

HUB HOLLOW

The members of Hub Hollow have been playing together, in different configurations, for almost 20 years. Their beautifully blended vocals and intricate melodies reflect a life of creating music together. Hub Hollow was officially born about 8 years ago and since then they have built a loyal fan-base on the strength of their unique versions of traditional bluegrass tunes and warm and inviting original material.




GROOVE MERCHANT

The earthy roots music of Groove Merchant Drum and Dance Ensemble has been described as Bedouin Funk.  The New Jersey based group's repertoire includes original compositions that dig deeply into ethnic roots music as well as offering a tasteful blend of traditional music.  Groove Merchant's nomadic inspirations are from the Near East, West Africa, New Orleans and beyond with two things in common; the funky bottom and respect for roots of the music and cultural traditions.

FREE Song download at: www.groovemerchantdrumdance.com




DANIEL JOHNSON AND CRAIG EBNER

Daniel Johnson is a Princeton based Tabla player and Percussionist. He works at Princeton University Lewis Center for the Arts as a percussionist with the Modern Dance department. He has performed as a member of Philadelphia's Spoken Hand Percussion Orchestra, with Jazz legend, Badal Roy's "Dharma Jazz " Grammy winner Paul Winter Consort, Kirtan artists Krishna Das, Nina Rao, Suzin Green, Girish and many more. Recently playing with Philadelphia jazz luminaries John Swana and Craig Ebner in SEJ trio, and with Guitarist Peter Olsen in their very creative original music duo "Entity ". These and many more performance and recording projects have kept him moving further into subtle pulsation. He maintains a busy teaching schedule in the Princeton area.

Craig Ebner is an avid performer and teacher of music. Since his graduation from the Hartt School of Music in 1992, he has performed and recorded with many musicians locally and internationally. Currently, he is on faculty in the Jazz Studies department at Temple University where he teaches guitar performance and jazz history. In addition, he has studied Hindustani classical music and continues to perform on guitar and sitar.

JUSTIN NAWN AND BRONWYN BIRD

Bronwyn Bird and Justin Nawn hit the stage with the nyckleharpa (swedish keyed-fiddle) and guitar! They feature traditional folk sounds from Scandinavia and Appalachia. They often blend vocal harmonies and pull inspiration from fresh and original folk styles that all audiences can enjoy!  

Bronwyn and Justin also run the Birdhouse Center for the Arts in the heart of Lambertville, NJ. They offer music therapy services, music lessons and host cultural and performance based events. Check out: www.birdhousecenter.org

ANDY WASSERMAN

Andy Wasserman has been performing, recording, composing and teaching music from around the world since 1979 with his collection of 140 authentic traditional wind, string, and percussion instruments from West Africa, Japan and China, The Middle East, Latin America and Afro-Cuban diaspora, South American and Native American cultures.

His three original participatory multi-cultural productions entitled Making Music From Around the World, INSTRUMENTS: Ancient 2 Future, and MUSIC: The Voice of Unity have been presented in performance, master class, artist-in-residence and workshop formats at over 2,000 festivals, schools, colleges, libraries and museums. Detailed background information can be found at his website andywasserman.com




JACK FURLONG

Recording artist Jack Furlong has been called many things, including "the James Bond of jazz," "The Man With The Golden Gun," and "late to dinner." What is there to say about Jack Furlong that hasn't already been said about a fine wine? (Well, except that he isn't made from grapes…)

Furlong is known as a performer, composer, arranger, woodwind doubler, and educator. A baritone saxophonist by trade, Jack diversifies his sound to other saxophones and woodwinds to achieve the proper tone color, mood, and musical message he hears and wishes to portray. Jack delights audiences with his wit and mastery at gigs, a talent that exudes from his albums, including the critically acclaimed "And That Happened" as well as his newest release, "Charity," an album where all proceeds are donated to three different charities.

DANIELLA FISCHETTI AND TIM RYAN

Dani (fiddle), trained classically, discovered bluegrass and the tradition of American fiddle tunes while in college. She cut her teeth frequenting bluegrass jams in the Village of New York City and expanded her musical repertoire to include gypsy jazz, country, and everything in between. During his many years spent in the West and New England, Tim (Dobro/Guitar/Bass) played in numerous bluegrass bands and had the opportunity to play with some iconic and legendary pickers. Devoted to continuing the tradition of community bluegrass, Dani and Tim, members of the local bluegrass band Hub Hollow, lead an open jam in Lambertville, NJ on the last Wednesday of each month.